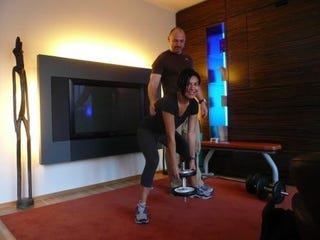 Workout with an expert trainer in your home, a gym, outdoors or online.
Zoltan- Personal Training provides the highest standard of personalized service, knowledge and training to reach specialized fitness goals in a private setting.

Zoltan Personal Training engages clients in a series of both traditional and cutting-edge exercise disciplines. Training techniques are taught through a creative mix of cardio, body weight exercises, stretching that's effective, challenging and will keep you motivated.
Zoltan has developed an innovative approach to progressive fitness programs that's fun and fat burning. Unlike weight training machines, which only target and isolate specific muscles, Functional Training involves weight bearing activities targeted at the core muscles of the abdomen and lower back. This training adapts and develops exercises which allow individuals to perform the activities of daily life more easily and without injury. If you suffer from back and neck pain, this is an ideal way to increase strength and decrease pressure and pain. You will lose weight, become stronger, develop improved posture and feel more energized to perform day-to-day tasks.
one high-intensity training session with me per week to achieve your goals ultra-fast.
intensive muscle building and fat reduction training during the week.
during the week training with me including fitness plan creation for your own workout at home or in your fitness studio.